Currency Counters
Our Commercial Grade Currency Counters have evolved from years of experience and are backed by unmatched support through our network of MAGNER® Authorized Distributors Nationwide.
The 75 Series offers the technology, performance, and productivity you expect from MAGNER® – the global leader in desktop currency counters.
With a wide range of features and options, the 75 Series is designed for accurate high speed processing, simplicity of operation, and rugged reliability, even in the most demanding applications.
Choose from a basic model with variable batching or a more advanced model with dual head, dual threshold magnetic suspect counterfeit detection as well as ultraviolet suspect counterfeit detection in combination.
Premium is defined by performance, not defined by size.  The compact Model 35-3 represents the third generation in a family of outstanding price/performers, which also boasts the #1 selling desktop currency counter in the world.  Along with its appealing appearance and simplicity of operation, the 35-3 offers robust functionality with automatic start, full error detection, adjustable speed, variable currency batching, and accumulation mode.  At speeds up to 1500 notes per minute, basic currency counting applications can be performed with greater efficiency and optimum productivity.  Designed from the beginning for superior reliability and dependability, the Model 35-3 is engineered to deliver MAGNER® quality performance for years.
CHS-10 High Speed Coin Counter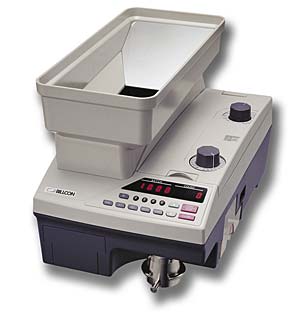 Counting coins is a task that is time-consuming and must be error-free. Billcon's new high speed CHS-10 coin counter processes high volume of coins at a rate of 4,000 per minute (dime) for accurate, rapid and efficient coin counting. The smaller size coins are rejected into a reject box, while larger size coins remain in the hopper.
For operators, the CHS-10 is extremely easy to use, simplifying their work. The body of this desktop model has a low design, so it is easy to place a large quantity of heavy coins into the hopper. All controls are located on the front of the machine to make operation more convenient.
Compact Note Counter N Series
High volume counting with simple operation.
If you're looking for an affordable, accurate and high-quality note counter…your search is over. The Billcon N-Series Note Counters offer you all this…and so much more. Heavy duty construction, sleek design and 1,500-note-per-minute speed…all in one compact machine.
With the Billcon N-Series you can increase your company's productivity, and get the ease-of-use, product reliability, and superior after-sales support that's made Billcon a success in over 70 countries worldwide.
Currency Discriminating Counter D-551 Series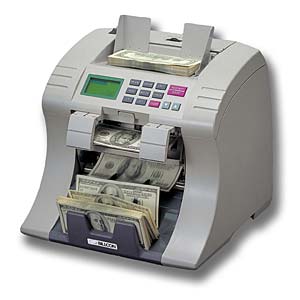 The Billcon D-551 Currency Discrimination Counter allows operators to be more efficient and cost-effective, they spend less time counting and more time helping customers. Here's how….
No presorting is necessary. Simply choose your settings, place the bills in the hopper, and go. The D-551 counts the bills you want to count, and automatically diverts the others to the large 100-note-capacity pocket. Everything is performed quickly and accurately with no need to stop midway through the process.
The all-new Billcon D-551 features advanced high-speed denomination recognition technology, six modes of counting bills preset batching and a blazing 1,200-notes-per-minute speed. Billcon's unique full-line sensor accurately distinguishes between the six denominations of U.S.bills .